Main
My name is Harry Pinkster (52). I live in the north of the Netherlands, in the city of Groningen. I collect beer bottles from all over the world since 1983.
I don't keep the empty bottles because of the space it takes, but remove every label from the bottle. The labels go in one of the twenty-seven special beer albums I've got.
There is one restriction; I always have to drink the beer myself. There are friends who give me empty bottles or just labels. In that case the beer does not become a part of my collection. Nearly all the beer labels of the more than 9500 tasted beers are scanned and online.
Just click on the name of the beer to see the label. At the right you see the 5000th beer label in my collection of beers I tasted. The beer was from the "Groningse Stadsbrouwerij". At the end of 2013 I hope to taste beer number 10000 for my collecion. I live in Groningen, in the north of the Netherlands. Unfortunately, most beers are brewed in the southern part of my country and so most of the beer activities are miles away.
There are over 160 breweries in the Netherlands these days, and only four of them are in the northern part.





Did you know that there are about 2200 Dutch beers in my collection? If you want to see a part of it just use the button "Beerlabel collection" in the menu left.
Nice to know: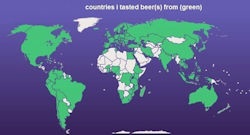 Now 9676 different labels of tasted beers from 110 countries.
In this laste update from 05-05-2013:
- 80 new labels from 11 countries. New beers >>
- Beer from Nicaragua , the 110th country in my collection.
- Again beers from five new Dutch breweries added on my website.
- Also more news about the latest brewery in my hometown Groningen


Latest News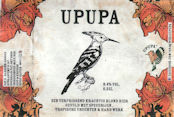 At the left the lasest labels from a beer I tasted; Othmar Goud, from the Ootmarsummer Bierbrouwerij Heupink (NED) - (NED), a new dutch brewery in my collection.

I added some new material from brewery Barbarossa, a closed brewery in Groningen, and made a new page with old bottles I have from this brewery.
I also added a page with all the coasters from this brewery, closed in the sixties. More >>>

There are still a few active dutch breweries where I didn't taste any beer so far. In this update the list became a bit longer because there are again e few new breweries in the Netherlands. The wanted breweries are listed on this special site. More >>>

Updated on this site is the interactive map with all the active Dutch breweries.

Besides the labels from self tasted beers I collect every item from the (mainly) closed breweries in my hometown Groningen. More >>>.